Direct Mailing
transcosmos Korea offers businesses a comprehensive one-stop solution for direct mailing, ensuring swift and accurate delivery.
We provide professional acumen and resources that include consulting, designing, printing, mailing, and managing data, optimizing the lead time and cost for our client companies.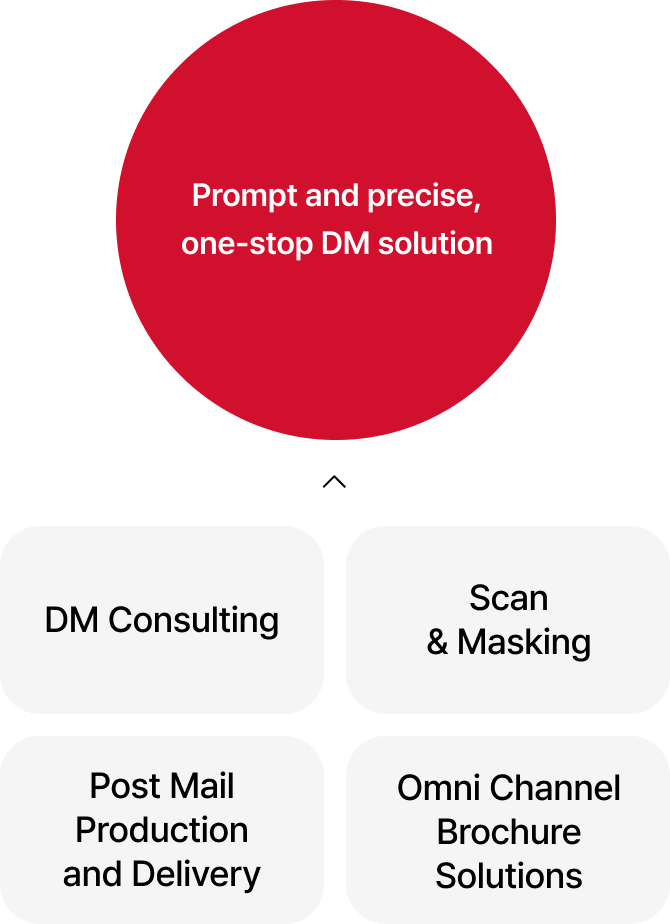 Primary Services
transcosmos Korea is at the forefront of offering various innovative digital services.
Customized Mail Production and Dispatch

Our services include the production and dispatch of customer-tailored posts, pamphlets, booklets, and coupons. We create individualized information and imagery in an optimally secure environment, offering mailing services to clients who require direct mailing. transcosmos Korea maintains the highest level of mail production capabilities in Korea, incorporating personal information security with patented technologies that prevent unauthorized production.

Omni Channel Distribution

By unifying the data production system for post, email, and mobile channels, we create and deliver standardized contents, preserving a uniform brand image for our clients.

Custom Policy Delivery

We deliver the custom policies to the insurance policyholders in booklets, emails, and mobile channels.

POD Services

We cater to the unique requirements of our clients by offering diverse types of DM services, including small quantities or individual productions.

NAVER Electronic Document Authentication Service

transcosmos Korea is an official reseller of the NAVER electronic document authentication service. We implement NAVER electronic document authentication services for enterprises requiring legally valid mobile registry services, as well as generating and dispatching mobile registries.
Distinct Features
transcosmos Korea holds comprehensive industry proficiency and cutting-edge technical expertise.
Global Security Certificate

We have acquired the "ISO 27001"
certificate for the first time in the
domestic DM industry, ensuring the
provision of secure services.

Patent Portfolio

Our portfolio includes multiple patented
solutions preventing errors and
incidents, thus ensuring accurate and
precise DM services.

Utilization of Cutting-Edge Equipment

We leverage state-of-the-art equipment,
such as high-speed printing and
automatic mailing systems, to provide
swift, accurate, and superior-quality DM services.